This page gathers resources directly related to small batch beer brewing
There are thousands of other resources out there, feel free to investigate and if you find something that deserves to show up here, let us know
Websites
A very interesting topic on homebrewtalk.com about 1 gallon beer brewing
A blog by a cool guy who also experiments with the Brooklyn Brew Kit
And finally, a really cool website that will teach you a lot, even though it's not specifically about gallon brewing

Books
This is THE reference for any serious homebrewer, by far the best book on the subject
It's structured with a crash course in the first section, which basically covers everything you need to know for small batch beer brewing
The remaining chapters take the reader deeper into every possible aspect of beer brewing, down to the most advanced parameters, cool to read after a few batches
The only reproach one could make to this book is that it clearly belongs to the pre-small batch brewing era and sometimes focuses on points that can easily be ignored without much consequences on beer taste
Which, in a way, is not too bad, because you learn things that are not mentioned in gallon brewing kits and it's good just to have them in mind
An absolute must-read!
52 small batch recipes by the Brooklyn Brew Shop for every season
The main asset of this book is that all recipes are fine-tuned for small batches and thoroughly tested by Erica and Stephen
It also includes cooking recipes and advice on food pairings for every beer
Every time I brewed a beer from this book, it turn fantastic!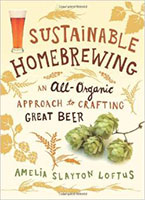 A surprisingly good book, not only about organic homebrewing, but also with very complete instructions on everything you need to know about brewing, both as a beginner or an advanced brewer
It really takes this hobby to the next level by covering advanced aspects such as growing ingredients yourself
Videos
The only video you should really watch before brewing is
Tools
Brewersfriend.com is a great place to start with, especially for beer recipes and you can click on every ingredient for additional information
Their color converter comes in handy if the recipe you are following does not use the same unit as the supplier you buy grain from
For priming with honey, this is a very useful priming sugar calculator
The following two tabs change content below.
Brewer
Passionate about beer brewing, I try a new recipe every other week and share my experiences in the
blog section
with my faithful readers